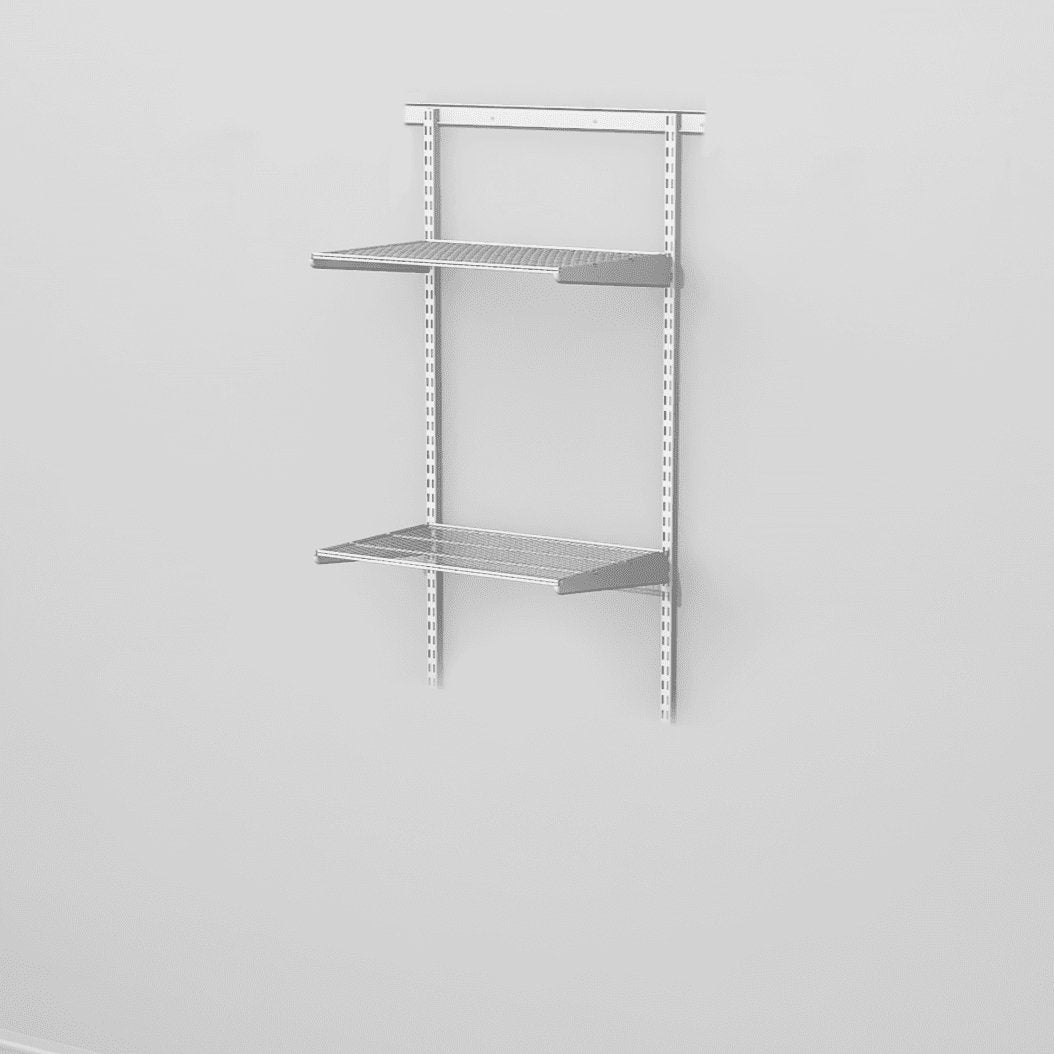 Adaptable Shelving Kit 8 Classic White
Save

£43.58
Our Price:
Current Price
£79.00
Introducing the Storagemaker Adaptable Shelving Kit - the perfect way to get your space organised!
This easy to hang system is simple to install and rearrange, leaving minimal holes in the wall. Just screw the top track to the wall, hook and hang the standards onto the track and slide them sideways into position. 
Then use the included accessories to position your brackets and shelves just where you need them.  With the Storagemaker Shelving Kit, you can create a custom storage solution that is both durable and flexible. 
Take control of your clutter today and make your room the organized space you've been wanting.
Main features:

Installing the easy hang Garage Shelving system takes one-third of the time it takes to install a traditional shelving system.

The screw holes in the top track correspond with studded wall timbers standard 600mm spacing.

The hanging bars can be cut to give height adjustment.

Alter the shelving heights to suit your requirements.

Designed to be fitted by just one person with ease.
Kit Includes:

1 x 640 mm top track to width

2 x 1200 mm hanging uprights

2 x 607 mm x 405 mm deep ventilated shelves

4 x 405 mm deep shelf brackets

2 x Wall Stabilisers

Weight 10.0 Kgs
Dimensions:

Total coverage: width of 615mm set at 1200mm high
Delivery:

We offer delivery anywhere throughout the UK and Northern Ireland, Irish Republic, Isle of Man, Highlands and Islands, Chanel islands and the Isle of White. Most orders can be delivered within 1-3 working days.

To Exchange Or Return An Item We will refund or exchange items you are not entirely happy with and we will return the cost of transportation or postage on any item proven to be defective after inspection. However, in the unlikely event that you are not satisfied with a purchased item and wish to exchange it, you will be responsible for the cost of return postage/shipping. In these cases, all items must be returned within 28 days of purchase with the original packaging intact and in a resalable condition. To return goods to us you must first call Storage Maker on 0845 217 9917 or email: sales@storagemaker.co.uk to arrange a collection.
See how quick and easy it is to fit one of our kits!