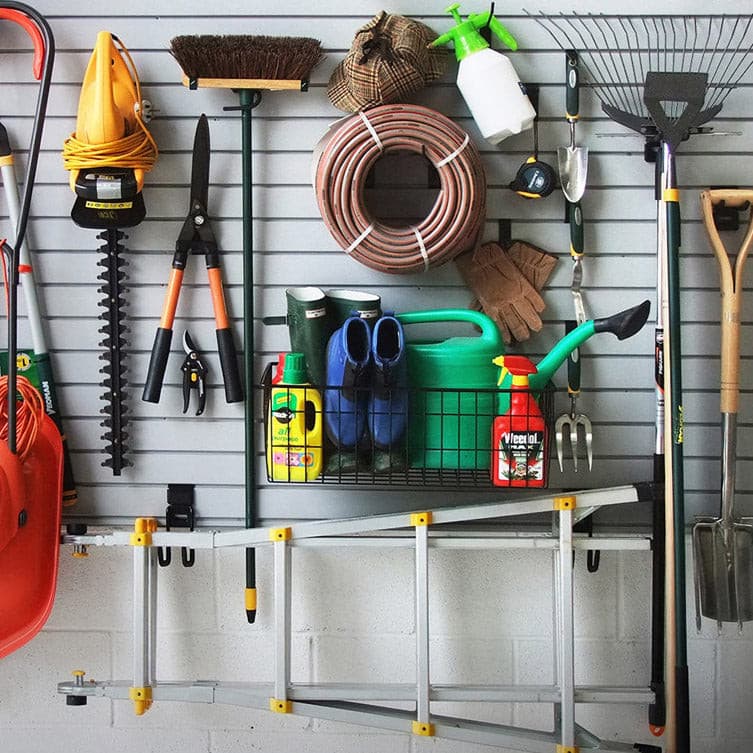 Garage Storage Organisation Kit 100 ( Larger 33 Pieces )
Save

£54.00
Our Price:
Current Price
£235.00
Now in Stock 
This Garage Storage Organisation Kit is ideal for Garage and Home Storage and is one of the UK's leading garage organisation products. The system offers a fantastic alternative to standard garage storage shelves. This Garage Storage Kit is the ideal storage solution for garage tools and is robust and extremely durable.
Garage Storage Organisation Kit 100 is a specially-priced 33 piece combination package of StorageMAKER™ panels and accessories.
Main features:

This Slatwall Garage Storage Solution is easy to fit with a range of Garage Storage Accessories to make home or garage storage easy. You can rest assured that your tools and other belongings are safe and clean with this garage storage system. The perfect solution for your garage or home storage problems.
Kit Includes:

4 x Slatwall x 1.2M

8 x Slatwall Fixing Brackets ( screws and wall plugs not included )

2 x End Capping 1200mm

6 x 2" Single Wire Hook (HS-02)

5 x 4" Single Wire hook (HS-04)

3 x 8" Single Wire Hook (HS-08)

1 x 4" Double Hook (HD-04)

1 x 8" Double Hook (HD-08)

1 x Large" J Hook (HL-04)

2 x Multipurpose Grab Hook (HB)

Weight 18 Kgs
Dimensions:

Option 1: Fit the 4 panels one on top of each other would make an area of 1200mm x 1220mm (4'0" x 4'0") 1.5M2

Option 2: Fit 2 panels one on top of the other and repeat adjacent would make an area of 2400mm x 610mm (8'0" x 2'0") 1.5M2
Delivery:

We offer delivery anywhere throughout the UK and Northern Ireland, Irish Republic, Isle of Man, Highlands and Islands, Chanel islands and the Isle of White. Most orders can be delivered within 1-3 working days.

To Exchange Or Return An Item We will refund or exchange items you are not entirely happy with and we will return the cost of transportation or postage on any item proven to be defective after inspection. However, in the unlikely event that you are not satisfied with a purchased item and wish to exchange it, you will be responsible for the cost of return postage/shipping. In these cases, all items must be returned within 28 days of purchase with the original packaging intact and in a resalable condition. To return goods to us you must first call Storage Maker on 0845 217 9917 or email: sales@storagemaker.co.uk to arrange a collection.
Videos